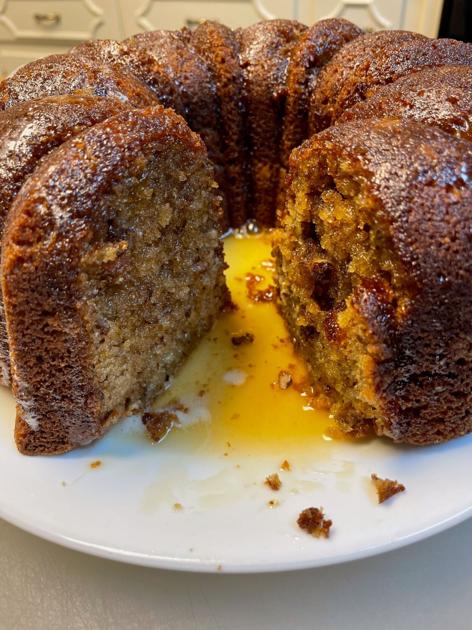 Cook This: If you like fig preserves, you will love this cake | Food/Restaurants
Table of Contents Human Condition: Figs are helping to preserve memories I Eat La.: Fabulous
Claudia Fowler penned a recent "Human Condition" column for the paper where she mentioned how fig preserves tend to be one of those love 'em or hate 'em kinds of food.
She and her husband, Jim, love them. And, while his favorite way to enjoy them is in a peanut butter and fig preserve flap-over, her favorite is fig cake.
We asked Claudia to share the recipe, and, boy, does it look good!
Human Condition: Figs are helping to preserve memories
Claudia says Jim, who used to deer hunt with buddies in north Louisiana, snagged the recipe more than 40 years ago from one of the men's wives.
"The wife wrote it out on the back of a used envelope," Claudia said. "I wish I had saved it!"
The cake, she said, is extremely moist and gets better with age, "but it usually does not last too long!"
I Eat La.: Fabulous Figs: These ancient fruits are still delighting us however you serve them
"Sometimes I serve this cake at Christmas as we are not big fruitcake fans," she told us. "It is a good substitute."
The fig cake tradition will be carried on in the Fowler family, with two of the couple's three sons often baking the delectable treat.
"One uses the small Bundt-size pans and gives them at Christmas to his staff where he works at St. Jude Children's Hospital," she said. "He sometimes substitutes a tablespoon of whiskey for the vanilla in the sauce."
Fig Cake
Makes one Bundt cake. Recipe is from Claudia Fowler.
CAKE
2 cups flour
1 teaspoon salt
1 teaspoon baking soda
1½ cups sugar
1 cup oil
3 eggs
1 cup fig preserves
1 cup chopped nuts
1 cup buttermilk
1 tablespoon vanilla
1. Grease and flour a large Bundt or tube pan.
2. Sift together flour, salt, baking soda and sugar.
3. With an electric mixer, beat together flour/sugar mixture, oil and eggs until blended.
4. Stir in fig preserves, nuts, buttermilk and vanilla until blended.
5. Pour into pan and bake at 325 F for about 45-55 minutes. Done when toothpick inserted comes out clean. 
6. Cool cake in pan for 30 minutes. Turn onto a plate and pour on sauce.
SAUCE
1 cup sugar
1 stick butter (½ cup)
1 tablespoon corn syrup
½ teaspoon baking soda
½ cup buttermilk
1 tablespoon vanilla
1. Mix first five ingredients in saucepan, bring to a boil and boil for 5 minutes.
2. Remove from heat and stir in vanilla. 
3. Use a large fork to punch holes in the top of the cake. Slowly pour sauce over cake.